Equipped with a degree in Bio-Resource (Agriculture) Engineering from University of British Columbia and over 25 years of experience working in wineries across Canada, the USA and Australia, Bruce Ewert established L'Acadie in 2004. Motivated to ensure his wines had a clear expression of the Nova Scotian terroir, Ewert pursued organic winemaking since the vineyard's inception, becoming the first certified organic vineyard and winery in Nova Scotia.
"We named our vineyard after the old name for this region, which in turn was named after the Arcadia district in Greece, meaning 'refuge or idyllic place'," said Bruce Ewert. "Our aim is to respect this beautiful place, this land we now call home. Going 100% organic seemed an obvious way to do that."
A Nova Scotia Organic Ambassador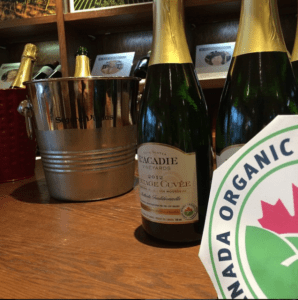 L'Acadie Vineyard's 2012 Vintage Cuvée on display. All their wines are certified organic.
"The impact on the flavour profile of our finished products is astonishing – more intense flavours from the soil, better aging by avoiding pesticide residue, less sulfite use and no sorbates," says Ewert. L'Acadie Vineyards' wines have won prestigious awards for their great flavour, including their Vintage Cuvée Rosé 2011 winning the Lieutenant Governor's award in 2015.
Certified by OCPP/Pro-Cert Canada Inc. under the accreditation of the Canadian Food Inspection Agency, all of L'Acadie's sparkling, red, white and dessert wines proudly bear the Canadian Organic logo. Their organic approach encourages a healthy soil, naturally enriched with compost teas, seaweed extracts, mulching and manure, which help maintain healthy microbiological life and earthworm populations. Free from pesticides, fungicides and chemical fertilizers, Bruce believes that "good stewardship of the vineyard will leave it healthy and bountiful for our future winemaking generations."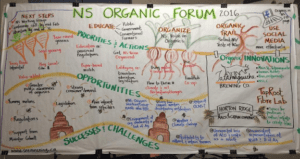 A recent training seminar L'Acadie staff attended to retain their status as 'Organic Ambassadors'.
Ewert undertook training with the Atlantic Canadian Organic Regional Network (ACORN) in 2016, to become an Organic Ambassador in the province. He uses this training to encourage other farmers to grow organically, not just through raising awareness of organic farming, but by practical means – giving cuttings from his estate to growers and buying grapes from them. He also regularly trains Nova Scotia Liquor Corporation (NSLC) staff on organic wine, especially during national Organic Week which takes place annually in September.
A Systems Approach to Sustainability
Aside from its organic credentials, the proprietor and winemakers at L'Acadie work hard to reduce their overall environmental impact, whether that be by using beeswax as a closure seal instead of a plastic, aluminum or lead capsule, or their use of a geothermal heat pump to reduce their electricity usage on-site. The geothermal pump reduces the need for natural gas or electric heating during the winter or air conditioning (AC) unit use during the summer. The pump heats or cools the winery by transferring heat to or from the ground. This not only reduces energy use, but also the hydrofluorocarbons – a type of greenhouse gas – which AC units release into the atmosphere. The winery was also built using sustainable materials such as wooden timber frames, an infrared reflecting roof and walls and doors specialized to maximize insulation.