Member Info
MEMBER DIRECTORY
Winery Member - British Columbia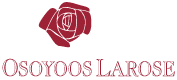 In 1998, Groupe Taillan of Bordeaux, France and Constellation Brands Canada formed an inspired partnership with a vision to create a world-class Canadian wine from classic Bordeaux varietals.
The union of centuries-old winemaking traditions and new-world, state-of-the-art equipment and technology was consummated on an arid, west-facing, 80-acre bench overlooking Lake Osoyoos in the South Okanagan, British Columbia. Their inaugural wine, Osoyoos Larose Le Grand Vin 2001 exceeded all expectations at home and abroad. Le Grand Vin 2001 raised the profile of all red wine produced in the South Okanagan and placed Osoyoos Larose on par with the world's finest wine producers.
The early success of Osoyoos Larose validated the extraordinary vision of an unlikely partnership and to this day inspires exceptional wine that rivals the best of the old and new world.
The Economic Impact of the
Wine and Grape Industry in Canada